Ava Della Pietra
"Power Of You"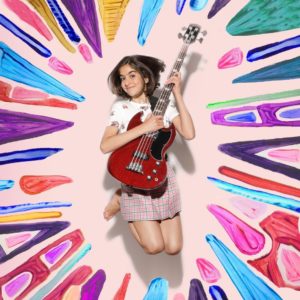 About Ava Della Pietra
"With more than 600,000 streams, 60k social media followers, and nearly 1 million YouTube views, Ava Della Pietra has emerged as one of the most promising young artists on the pop scene today."
One of Ava's earliest memories of performing in public was singing Somewhere over the Rainbow at the tender age of four. Looking back, the 'dreams that she dreamed of' really have come true. By six, she had a theatrical agent, and at seven, she performed in 27 cities as Little Cosette with the 25th Anniversary National touring production of Les Misérables. Soon after, Ava toured for two months in White Christmas and by ten she began a two-year run on Broadway as a member of the original cast of School of Rock. During her time on Broadway, Ava performed at the Tony Awards, in the Macy's Thanksgiving Day Parade, and in front of countless audience members (including the likes of Barbra Streisand and Andrew Lloyd Webber himself).  
A multi-instrumentalist who plays piano, guitar, bass, violin, and ukulele, Ava recorded her first song when she was ten. Songwriting is something that has always come naturally. "Songs tend to come to me when I am outside taking a walk or riding my bicycle. I will sing a verse and a chorus into my phone, and then when I get back inside, I write it all down and put chords to it on either the ukulele, piano, or guitar". After School of Rock, Ava knew she was ready to produce, release and perform her own music. 
So continued Ava's incredible musical journey. She connected with producer Will Hicks (Ed Sheeran, Jamie Lawson, Beyoncé) and had the amazing opportunity to work with him in the UK. The results were three songs Ava's listeners have embraced: Optimist (which reached #50 on the Top 40 radio chart and was singled out by media outlets such as American Songwriter, Just Jared Jr., and Newsday), Christmas Tonight (named one of the best new Holiday singles of 2019 by Tiger Beat), and Home – a song about the border crisis which Parade magazine called "a pop ray of hope".
As she now embarks on the next chapter of her musical career, Ava is focusing on a more acoustic path for her upcoming releases. Ava is setting her sights high, working again with Hicks as well as producers Steven Martinez, Adrian Gurvitz (Andra Day, Ziggy Marley), Ava has written over 80 songs, 32 while quarantining with her family on Long Island. "My creativity was really flowing; all my emotions manifested themselves into new lyrics". 
Some of Ava's songs are centered around her own experiences, while others focus on issues she sees around her. "I recently wrote I've Been Thinking, about childhood friendship, that recalls the carefree days and laughing out loud, and reflects on the importance of keeping in touch". 
In another new track, Power of You, Ava sings about overcoming other people's expectations, living life free of outside influences, and making her own choices. "I realized that I am capable of making decisions that are right for me, without letting others' hopes and fears affect me. Even being in the studio with a new producer can be intimidating,  but I work on sharing my vision and what I believe in, so we can get creative and go for it." 
While the topics of her songs range from friendships to love to boys to world issues, when she's writing, Ava spends a lot of time with her lyrics, knowing that they will always be a place in time that she has captured. "Music is such a powerful way to convey my thoughts and ideas; it's like a journal, a true snapshot of my life. Looking at it retrospectively, it has helped me discover a lot about myself – I hope my songs do the same for others."
Dianña (pronounced Dee-on-ya) has found her true calling as a traditional country music singer/songwriter after having written, recorded and performed with many well-known R&B, rap, rock, pop, gospel, alternative, and country artists from Snoop Dogg to Amy Grant. 
"If this groovy corner of the New York City scene is going to take the world by storm, Lawrence may well be its best bet for the future." – Live For Live Music
"To me, rock wasn't meant to be pretty, but desperate, risky and bombastic…where it could go off the rails at any moment." – Andrew Reed